By Richard Hughes in Social Business For Real Work on February 21, 2014
Part 4 of the Social Business For Real Work series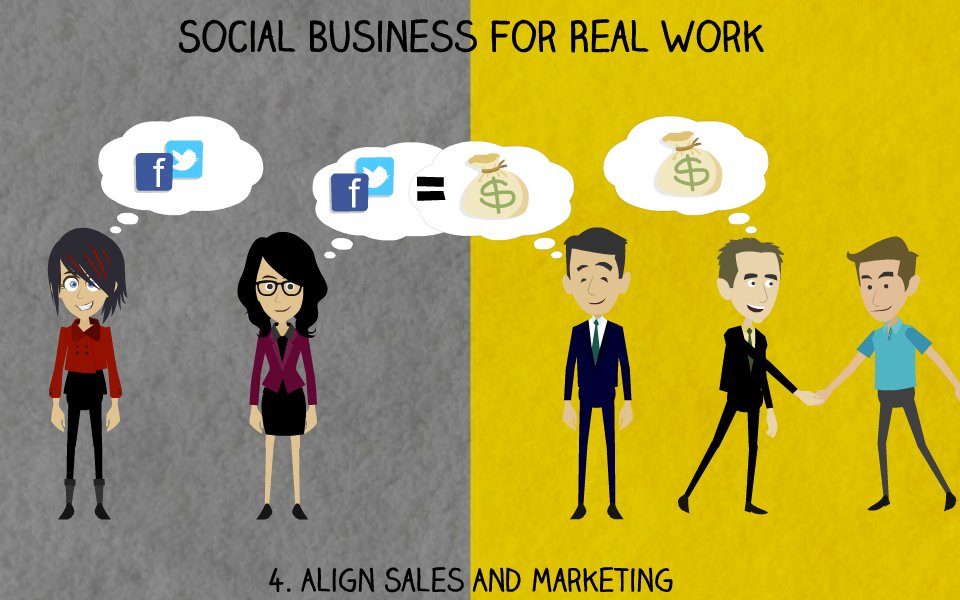 The Challenge
Sales and Marketing departments in large companies (and even not-so-large ones) often fail to communicate as effectively as they should. Marketing teams work on promotions and launch them without informing Sales, while Sales fail to give marketing insight into their pipeline. In the worst cases, this leads to mistrust between the teams and differing priorities.
The Social Business Advantage
An enterprise social network provides an environment where sales and marketing can exchange knowledge and details about their current projects. But it needs to be accompanied by a real desire to collaborate across departments. Marketing should give sales greater insight into work-in-progress, and actively solicit input from Sales. Sales should provide regular feedback on how the marketing messages are received by customers and prospects and on changes and additions to the library of marketing collateral.
Sales teams who are often out of the office are able to access the latest marketing material and contribute to the discussion of new material via mobile devices.
Example
Carol in the Marketing team has been tasked with improving the flow of information between the corporate marketing team in the US, and the sales teams in US, Europe and Asia. While the US team has usually kept up to date with the latest marketing messages because they work in the same office, the European and Asian teams have often continued using out-of-date material, and regularly complain about new promotions being launched on the global website which they knew nothing about.
To enable this she chooses to create two separate communities in the company social network. The first contains all published marketing material that is suitable for distribution to customers and prospects. In the past, this material had been stored in a shared folder on a file server. But it was often hard to be sure whether this was up to date, as many files were owned by people who had left the company. As this material is moved to the social network, Carol ensures that each file has a designated owner who is a current employee – someone who is responsible for ensuring the content is up to date, and who will respond to questions from sales about it.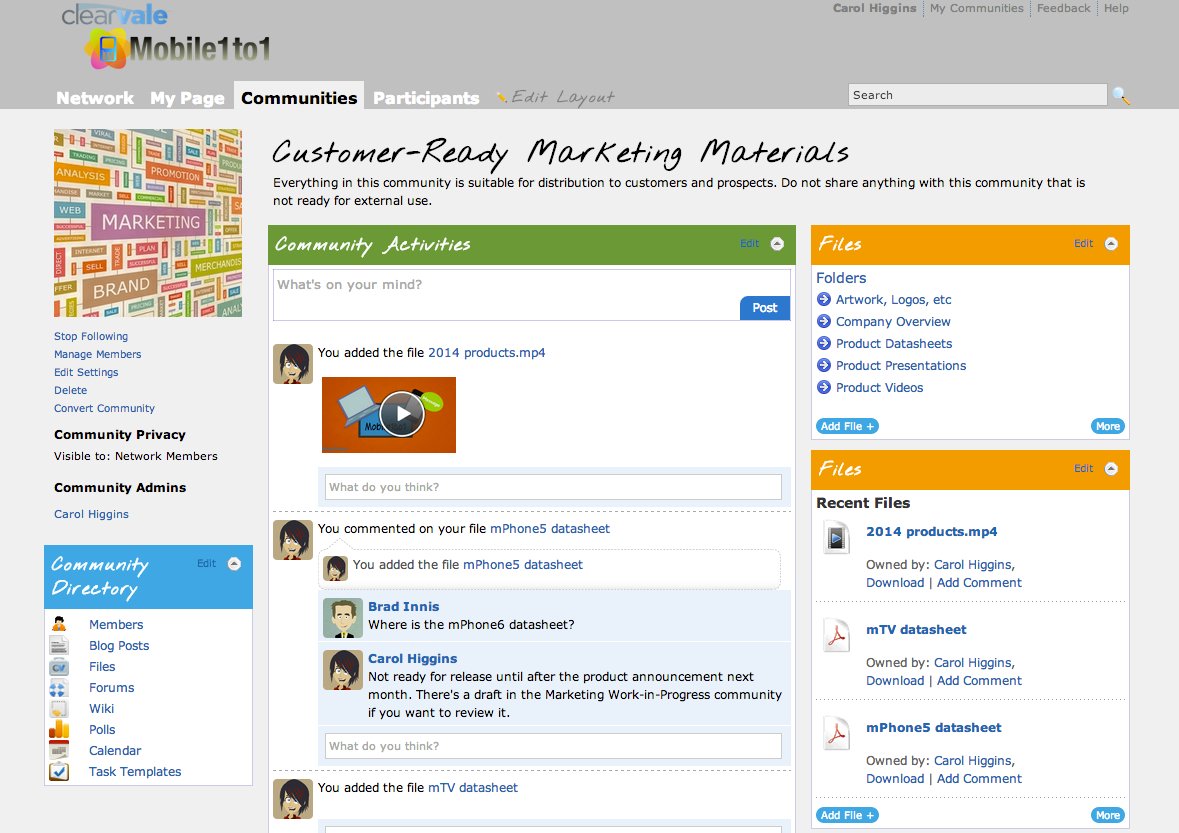 The second community Carol creates is for marketing work-in-progress. Anything here is strictly for company internal discussion only as has not been fully reviewed. The sales team are invited to join this community so that they can keep up to date with what marketing are currently working on, and can contribute their opinion while promotions, datasheets, white papers and other documents are being created. Sales are reminded that nothing here can be used outside the company until it is moved into the first community.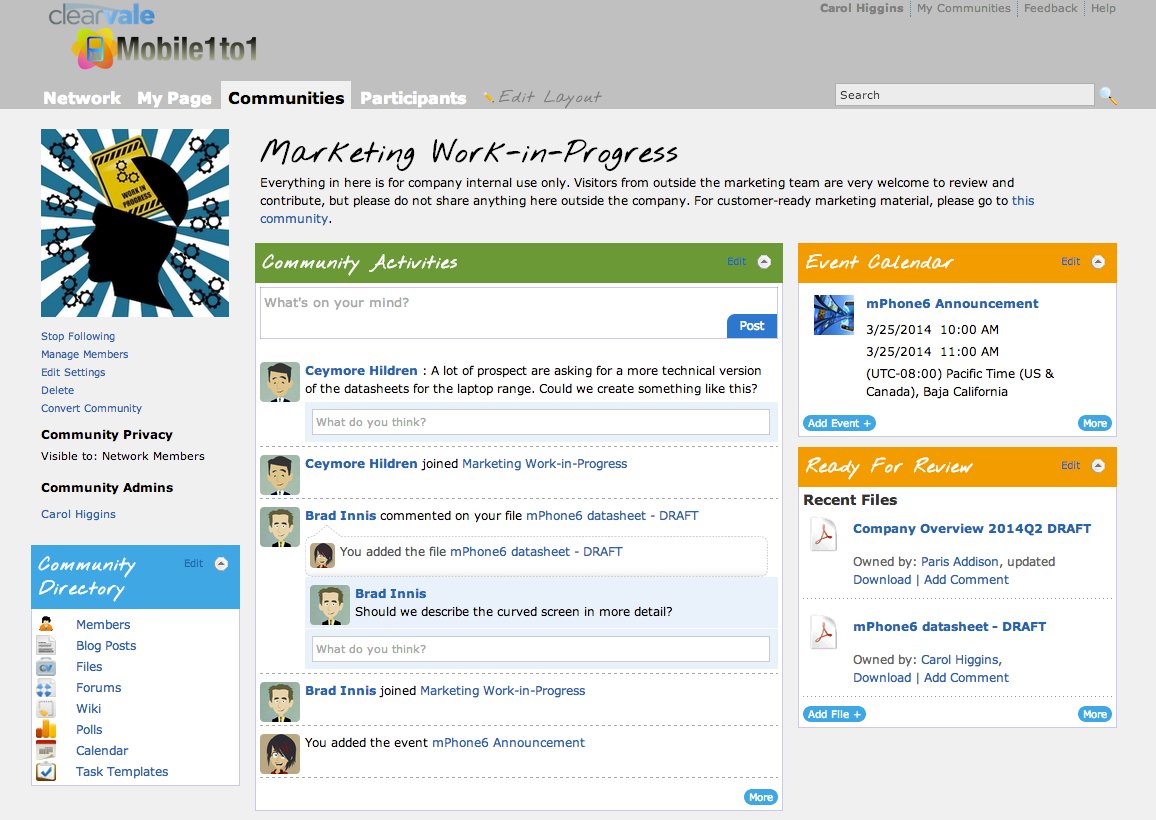 The leaders of the sales and marketing teams also agree that the private sales communities, where each regional sales team shares information about the deals it is currently working on, are opened up to allow marketing to join. Carol joins each of the regional communities and monitors them to gain a better understanding of Sales' current challenges and how Marketing can help.
Make It Real
More than any of the other examples in this series so far, success in connecting sales and marketing is dependent on changes in behaviour. Establishing communities for exchange of knowledge will not succeed unless it is accompanied by a willingness to share. Managers of sales and marketing teams need to lead by example and actively encourage this willingness.

Make a clear distinction between "customer-ready" marketing content and "work in progress". Marketing reluctance to share work-in-progress content often stems from previous incidents where Sales have failed to respect this.

Ensure that all customer-ready material has a designated owner, and files owned by employees who leave the company are reassigned.

Make sure the communication is two-way. Giving Marketing insight into current Sales activities is just as important as giving Sales information about planned Marketing initiatives.

There may be a temptation to create one big sales and marketing community, but this is not always the most effective approach as it can lead to everyone being deluged with more information than they need. It is better to create smaller working communities for each group, but allow the other sales and marketing teams to "drop in" and see what's happening.

Don't assume that just because the other teams have access to what you're working on they will always know when to "drop in". When a piece of work needs review or input, use tasks to draw the attention of the wider sales and marketing community to it.